No new students will be recruited in 2023-2024 for the Master Health Connective Tissue Diseases.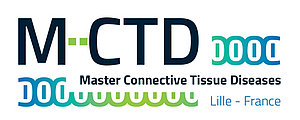 Le catalogue de formation de la faculté de Médecine de Lille s'enrichit d'un nouveau Master Santé :
le Master international CTD vise la formation de spécialistes de haut niveau dans le domaine des connectivites.
Première rentrée en octobre 2021.
The graduate programme 'Connective Tissue Diseases' is intended for French or international medical students, primarily to residents and practising doctors gratuated or completing a degree in the following disciplines: internal medicine, rheumatology, clinical immunology. The programme can of course be of interest to residents or doctors engaged in other fields of medicine.
The graduate programme 'Connective Tissue Diseases' (CTD) will provide its participants with a high-class complementary qualification in the specific field of connective tissue diseases, thus allowing to cover te needs of the reference and expertise centres in autoimmune and rare systemic diseases.
The programme leads to a Master degree in Health – Connective Tissue Diseases.
Skills to be covered:
By completion of the training course, graduates will be able to:
- Ensure a patient's management and care in this specific disciplinary field
- Contribute to and participate in the implementation of a clinical research project
- Coordinate clinical and scientific subspecialised activities and contribute to the training of collaborators (multidisciplinary care and research staff)
- Contribute to care, research, training and coordination activities in a clinical and scientific environment characterised by interculturality
- Develop a personal career plan
More details (lien à venir)
Career prospects / continuation of training:
Graduates of this international graduate programme will be able to put forth a high-class theoretical, practical and applied training in the field of connective tissue diseases.
The main job positions targeted are project leader or coordinator of a local, national or European network on connective tissue diseases, manager for the organisation of care for patients suffering from connective tissue diseases within hospitals units, coordinator of health networks focused on connective tissue diseases, training manager within a training centre, research fellow in a research institute or health organisation.
The graduate programme also allows access to a doctoral course (3rd cycle thesis) to those aiming for scientific and/or academic positions.
Organisation of the training course:
The graduate programme grants 120 ECTS and the training is delivered online, with on-site presence required for seminars only. The fourth and final semester consists in a clinical immersion clerkship, coupled with the redaction of a thesis and the defense of a clinical research project presented as an article ready for submission.
The training is provided in the frame of partnerships with the scholarly organisation 'European League Against Rheumatism (EULAR)', the health sector on rare autoimmune and autoinflammatory diseases (FAI2R), 'filière de Santé des Maladies Auto-Immunes et Auto- Inflammatoires Rare'), and the reference centre on rare autoimmune systemic diseases for the North of the Northwest of France (CeRAINO), 'Centre de Référence des Maladies Auto-Immunes Systémiques Rares du Nord et Nord-Ouest'). The clerkship is carried out in a hospital department which is accredited by the European Union for its expertise in rare systemic diseases (Health Care Provider of the ReCONNET network).
The majority of the courses will be delivered in English, making the graduate programme well accessible to international students.
French-speaking students will be offered training in scientific English.
In order to reinforce the knowledge of the French language and culture, French language courses are also planned. In particular, they will promote the integration of international students into a wider scientific environment.
For further details on the content of the training course, please click on the tabs on top of this page.